After watching a multitude of sepak takraw videos, I begin to recognize many of the names and faces of players. It's not long before I wonder "who are these famous sepak takraw players?"
Let the investigation begin!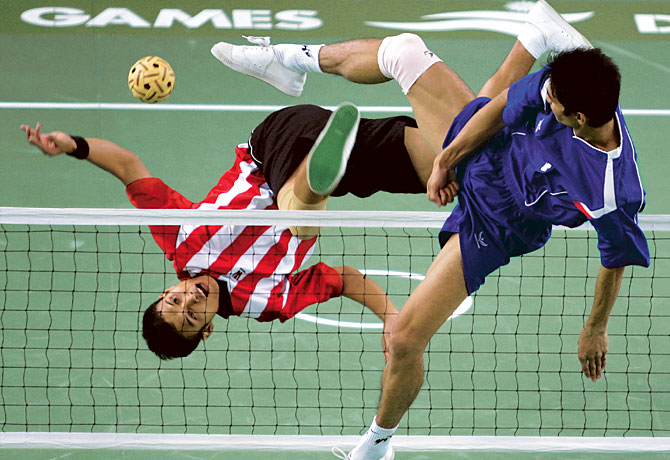 Source: hosin2009 – Under Commercial use license
While none of these players have the universal recognition of football players such as Messi, Ronaldo, or Neymar, it doesn't mean they are not equally as impressive in their own right. The athleticism required to compete in sepak takraw is on another level than in many sports.
The following list consists of famous sepak takraw players that are worth investigating:
1. Thailand's Suebsak Phunsueb
Starting off the list of famous Sepak Tekraw players is Suebsak Phunsueb. While he was a great sepak takraw player, he is also an actor. His high profile status was elevated even more when he was asked to read the Athletes' Oath at the opening ceremony of the 2007 Southeast Asian Games held in Thailand.
2. Thailand's Anuwat Chaichana
With multiple gold medals, Anuwat Chaichana accolades speak to why he is famous. He is a staple on Thailand's team. Many consider him to be one of the best sepak takraw players ever. Being such an experienced striker with so much power, it's no wonder he is one of the famous sepak takraw players.
3. Muhamad Norhaffizi Abdul Razak
This player is known for his strong defensive abilities. He is able to prevent other teams from scoring. His ability to defend does not eclipse his ability to attack. He is a dangerous striker that uses strategy as well as power. He often places the ball somewhere the other team is not expecting. This is what has gained him fame and made him one of the famous sepak takraw players on this list.
4. Malaysia's Azlan Alias
Of the famous sepak takraw players on this list, Alias has been the most recent to win the gold medal at the 2018 Asian games. There's no doubt that he is one of the best strikers in the game. Not only is he a fan favorite due to his affability and exciting style of play, but he is arguably one of the best in the game today.
5. Indonesia's Nofrizal
There is no wonder why Nofrizal is one of the most famous sepak takraw players. His skills are undeniable. Whether he plays regu, quadrant, or double sepak takraw, he shows that he can play every position without hesitation.
6. India's Harish Kumar
Harish Kumar gained fame as a member of the bronze medal Indian Sepak Takraw team in the Asian Games 2018. What has garnered the interest of the public, is that Kumar is not only a sepak takraw medalist, but he also continues to work by serving tea at his family's business.
Harish Kumar has gained fame from his humble roots. He works to balance his passion for sepak takraw and supporting his large family. Multiple news outlets and social media posts have been shared about Harish Kumar's unwavering commitment to the sport and his family.
7. Malaysia's Syahir Rosdi
Being the captain of what many consider to be the hardest team to beat ever, will definitely qualify as one of the famous sepak takraw player's. Syahir Rosdi is considered one of the best Tekong's in the game.
His serves are typically clock in the low to high 70's km/h – that's approximately 43-50 mph. He not only serves at high speeds, but his kicks are very accurate. He frequently places the ball just out of reach of players and barely in bounds.
Syahir Rosdi also credits teamwork as being one of the keys to Malaysian success in sepak takraw.
8. Thailand's Siriwat Sakha
This 'Tekong' has also built himself a reputation worthy of being on a list of famous sepak takraw players.
Siriwat Sakha is another player that is known for his speed, power, and accurate serves. He stands heads and shoulders above his peers. At 1.86m (6ft 1in) he is above the average height of sepak takraw players.
The combination of his size and skill has helped him become one of the famous sepak takraw players and collect 2 gold medals in the 2010 and 2014 Asian Games along with another gold medal in the 2015 Southeast Asian games.
How these Famous Sepak Takraw Players changed the game?
It's no surprise that many of the same players are featured in YouTube highlight reels.
Sepak takraw players are recognized for their almost superhuman athleticism. They are in an elite class of sports. What makes these players stand out more than others is combining cunning strategy with their athleticism, continuously surprising other players by being unpredictable and difficult to face.
Their ability to strategize while playing in the high pace game makes these famous sepak takraw players worthy of notice and have highlight reels worth checking out.
Read more about Sepak Takraw