The equipment in Sepak Takraw consists is pretty basic: Ball, net, shoes, and somewhere to play – that's it. For those wanting to play sepak takraw, let's explore what you'll need to get started.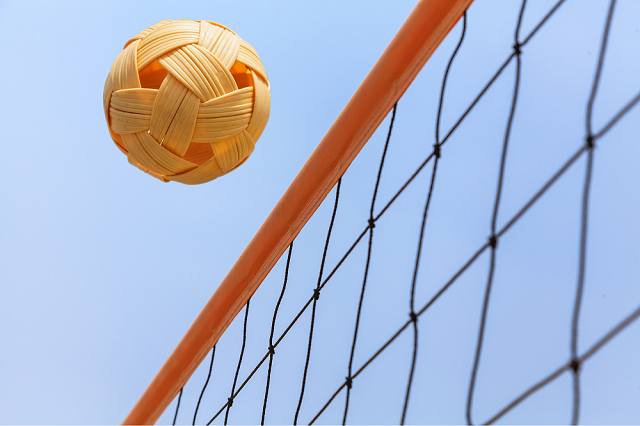 Basic equipment in Sepak Takraw
After watching several sepak takraw videos on YouTube, you say to yourself, "I would like to play a game of Takraw". So, what do we need in order to get started playing sepak takraw? Equipment.
In this article, we will look at the best basic equipment in sepak takraw for beginners:
1. Game Ball
5 x 5 x 5 inches
5.6 ounces
We must begin with the most important one, the ball.
The ball is a very important and unique piece of equipment in sepak takraw. In order to play Sepak Takraw, you'll have to get a Sepak Takraw ball because it really what makes the game special and I'm afraid no other ball you might have at home, can do the same.
The Takraw Ball Product Made in Thailand by Khao San Road is a good place to start.
Constructed from heavy plastic, this ball is durable and similar to the balls professionals play with. Measuring 5 x 5 x 5 inches and weighing 5.6 ounces, this ball is just slightly lighter and smaller than the official equipment in sepak takraw.
This ball has the same traditional woven pattern – 12 holes and 21 intersections – as the balls made from rattan, but it should last much longer because of the material. This ball has a similar feel of a Wiffle ball and is about the same size as a grapefruit.
When getting ready to kick something as substantial as a sepak takraw ball, you'll need the right shoes…
2. Game shoes
Green Rubber Sole Signature
Sole 100% Natural Rubber
As with any kicking game, the choice of shoe is vital to how you will need to play the game. Shoes are definitely one of the most important pieces of equipment in sepak takraw. Finding a shoe that balances flexibility and protection can be a challenge.
Nanyang 205S Thai classical sneakers shoes for Sepak Takraw are literally tailored to the game. These shoes are made in Thailand boasting "the longest lifespan…cotton fabrics and high-quality yarn, making the shoe more flexible."
The toes are reinforced, the material is flexible, and the natural rubber sole is specially made for grip. You have three colors to choose from: White, black, or brown.
Picking the right shoes is of the upmost importance. You won't go wrong picking shoes that are specifically designed with sepak takraw in mind and have been perfected since 1953.
3. Game Net
The last thing you'll need is a net. What do we look for in a net? Durability.
2.5-inch white headband top
38 feet Vinyl coated steel cable top and bottom
When looking for a net to add to your collection of equipment for sepak takraw, you want something that is durable enough to withstand a 5.6 – 6.5 oz ball being kicked into it repeatedly. Also, having a net that is weather resistant is important because you probably do not want to put it up and take it down every time you want to play.
This net by Champion Sports Official Tournament seems to check all the boxes needed to play sepak takraw. This net is slightly larger than an official sepak takraw net but serves its purpose by creating a barrier between two sides of the court. Also, the larger size more than enough to form your sepak takraw court.
The top and sides of this net are reinforced for better and longer-lasting uses. Without having to worry about the net, you and your friends will be able to focus on developing your sepak takraw skills.
You have what it takes
The required equipment in sepak takraw is pretty basic. All you need are a net, ball, court, friends – and a good pair of shoes is recommended but optional.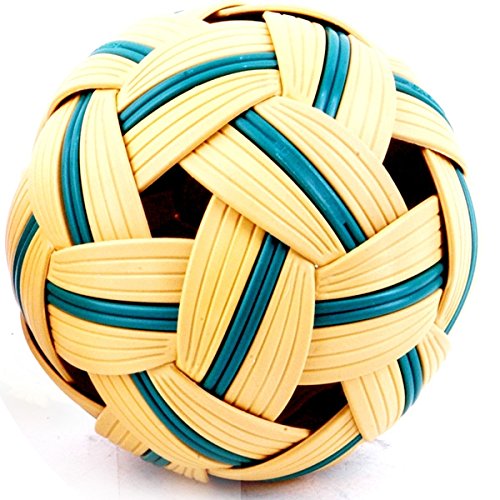 Investing in the equipment in sepak takraw is not expensive. But, just maybe you're really excited and you want to start playing as soon as possible.
If that is the case, then buy a Takraw ball, grab whatever net is available, and start kicking. Invite some friends over and try it out.
Read more about Sepak Takraw