If you're thinking of getting a SandMaster bag you've come to the right place. In this SandMaster footbag review, you'll find everything you need to know about the famous SandMaster hacky sack (Based on my personal story with it as well as other players' experience).
* We want to be clear that as an Amazon Associate we earn from qualifying purchases.
I've personally enjoyed several SandMaster footbags over the years (my first bag ever was a SandMaster) and I would recommend this bag to anyone just starting out or looking for another great footbag.
History of SandMaster and World footbag company
The SandMaster footbag is one of the most iconic and recognizable footbags by hacky sack players worldwide!
It's fair to say that the popularity of SandMaster footbags (which has grown rapidly over the past decade or so) is due to the company's efforts to have a solid presence in most online and offline stores. Making the SandMaster, as well as the sport of hacky sack available to almost everyone.
World footbag company
The company that produces SandMaster footbags is the World Footbag company that was established back in 1983 with the aim of bringing hacky sack/ footbags to the masses.
To this day, the "World Footbag" company is a significant contributing factor to hacky sack remaining a popular niche sport. It is through their efforts of making quality hacky sacks that are suitable for new players and for well-seasoned players.
In the following quote taken from the company's websites you can see the company's mission to push footbag/hacky sack as a beneficial activity:
"…to promote footbag as a healthy, life-long activity and sport that enriches lives, we are committed to the highest standards in all we do and strive to continually increase our knowledge and skills in all facets of footbags."
This mission statement can be seen as helping to not only grow the company and the brand, but also the sport itself.
My personal story with Sandmaster footbag
Before I provide an in-depth SandMaster Footbag Review, let me first share my personal bias concerning SandMaster footbags.
SandMaster footbags are critical to my own personal story of getting into hacky sack. Like so many others, my journey of how I became interested in footbag begins at a community college I attended when I was 19.
It all began my freshman year. I was walking across campus minding my own business when I passed a circle of people making some commotion.
Investigating further, I realized they were kicking a hacky sack. I grew up playing kicking sports, the main one being soccer, so I was well acquainted with what a hacky sack was, but I had never taken the time to actually try to play.
A guy who would later become a great friend belted, "Wanna play?"
I responded "sure" and to my surprise, it was really difficult even though I'm good with my feet. I was surprised.
This circle would become a regular thing between and after classes. Eventually, I decided I should have my own footbags so I could practice by myself.
My first bag
Not knowing exactly where to find an actual hackysack/footbag (Are they in the "sports" section? or "toy" section?) I was lucky to stumble across SandMaster hacky sacks tucked next to the register at my local Hibbett Sports (athletic-inspired fashion retailer). And that's how I got my first footbag.
A new SandMaster felt so different because it still had all of the sand in it. It took a while to get used to the heavier weight, higher fill level, and kicking a bag that had not been broken in yet. Given enough time and play, all of these components change after a few weeks.
Since then, I've always had a footbag of some sort nearby. Eventually, I developed quite a collection. They haven't all been SandMasters, but that is the one I started with, and it is the go-to bag when new players ask what they should get.
There are surely other nuances to my footbag journey that add to the significance that the SandMaster has for me. But it suffices to say my beginnings are forever tethered to SandMaster footbags.
SandMaster footbag Review – After playing with it for years
To be upfront, I feel that the SandMaster footbag is a well-balanced footbag in every area. It is not overly engineered, but it is the product of a history of trial and error embedded in the history of the footbag.
Let's begin with the specs
SandMaster footbags measure 2 ¼ inches in diameter. With an initial weight of 55-60 grams and a fill ratio of a little over half (medium), this hacky sack is substantial without being overly burdensome. It is constructed out of 14 synthetic suede panels, and has been improved over the years with "tighter stitching and unique corner closures".
My personal experience
My personal opinion is that this is one of the best commonly available hacky sacks/ footbags on the market. Are there better bags out there? Yes, absolutely. Are there cheaper bags available? Yes, without a doubt. Can you ask for a better sand-filled footbag for this price? No. I don't think so.
Other players SandMaster Footbag Review
To get a better understanding of what other people's impressions are of the SandMaster footbag, I researched what players from the Amazon reviews section had to say about the Sandmaster hacky sack.
The vast majority of reviews I went through were positive and the SandMaster is one of the most popular bags on Amazon for a good reason.
To my surprise, not everyone has had the same positive experiences with SandMaster footbag as I have. More than a few users were unhappy with the product's durability.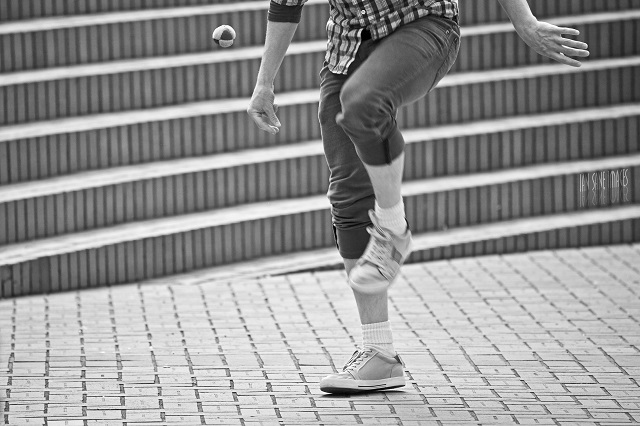 Leaks due to stitching
Some reviewers had issues with sand leaking from the bag shortly after receiving the SandMaster hacky sack. Some complained that the bag began leaking sand after playing with it for a short amount of time and a couple of sessions.
Leaks were typically attributed to loose stitching. These complaints echoed that the stitching is insufficient and result in an ongoing loss of filler. Eventually and all too quickly, the once sand-filled hacky sack becomes a former shell of itself, and they were left disappointed.
Fill level
Other complaints cite the fill level. Some of the customers were expecting a much higher fill level, and when they received their SandMaster hacky sack, they were disillusioned to find the medium filled bag they received was less full than they expected.
My take on it
It seems to me that the common complaint concerns the quality of stitching, which is a quality control issue. I have also experienced loose stitching with my bags, but not to the extent of any of the Amazon reviews.
If you are worried about the stitching and filler leaking, you might be better off with a Dirtbag hacky sack. It has fewer stitches and therefore fewer leaks.
When I get a new bag – any bag – I cautiously kick it around a couple of times and look for any kind of leaks. Leaks definitely happen.
And because leaks are so common, I keep a small sewing kit (needle and thread like this one) with my footbags for when the inevitable happens.
Other than that, SandMaster Footbag Reviews were positive
On the flip side, it is worth noting the positive comments definitely outnumbered the negative comments.
Customers that gave SandMaster footbags positive reviews praised what others had complained about. Sentiments lauded the construction of the bag. Some customers cite years of experience and play before any issues surfaced.
SandMaster Hacky Sack Pros & Cons
When considering whether or not to buy a SandMaster footbag or another bag, there are two main pros and cons you should consider.
Pros
SandMaster hacky sacks are great for developing footbag skills. Mainly due to the fact the bags are great for both circle and individual play. Moreover, SandMaster footbags are great for learning and pulling off freestyle moves that require delays/stalls.
The panel size, sand-filler, and medium fill level come together to create a bag that has a respectable amount of *pop* while still being easy to stall – this is what makes it perfect for beginners in my opinion.
This bag is overall well balanced. It is predictable, easily controlled, and easy to both kick and stall once you get a feel for it.
Cons
One thing I would take into consideration, especially after reading what people from the Amazon reviews section had to say is loose stitching and the losing of filler.
Some people (and new players in particular) may not be familiar with normal filler loss or anticipate loose stitching. But you should know a certain degree of either is not uncommon, but it can surely be inconvenient and frustrating, especially when the bag is relatively new.
Expectations of a bag relative to performance will determine whether or not you are satisfied with the product you receive.
Sandmaster vs. DirtBag Footbag
To provide a better idea of how SandMaster hacky sacks stack up against the competition, it is comparable to another sand-filled hacky sack: DirtBag Footbag.
In a previous article, "11 Best Sand Hacky Sacks and Footbags", the SandMaster and the DirtBag are the first two hacky sacks on my list. This was not intentional, but it makes sense.
Both bags are about the same size. Both measure 2 ¼ inches. Both are constructed of durable synthetic suede. Both have about the same weight of 55-60 grams. Both have a medium fill and are filled with sand.
The differences emerge when looking at the amount and size of panels.
SandMaster footbags are constructed of 14 panels. Dirtbag footbags have an 8-panel construction. This means that Dirtbags will probably be easier to stall because they collapse on a surface more easily. Fewer panels mean there is less stitching to maintain the structural integrity of the bag.
On the other hand, the more panels a bag has, such is the case with the SandMaster, the more of a ball shape it will maintain. This means your kicks will be more consistent because the bag is more consistent.
I don't think you can go wrong with either one, and hopefully this comparison gives you a better idea of which you prefer.
Final verdict
The Sandmaster is a footbag that is consistent, easy to control, easy to stall, and satisfying to kick.
I've personally enjoyed several SandMaster footbags over the years. I would recommend this bag to anyone just starting out or looking for another great footbag.
My Sandmasters have been a vital aspect of my footbag development, and hopefully, a SandMaster footbag can help you develop too.
There is obviously a quality control issue according to the wide range of experiences found in the reviews. But, the most prominent complaint is easily remedied with a needle and thread.
In my experience, my SandMasters have been durable. And trust me, they have taken a lot of punishment through tons of circles and held together well.
If you've had a SandMaster footbag, then please share your experience and whether it fell short or exceeded your expectations in the comments section.